AhmadTea
Tea Keeper
Our Tea Keeper is a great tea gift for any occasion. It's the ultimate in refinement and timeless elegance, the wooden tea keeper makes a wonderful presentation case for our teas.
Our tea keeper caddy contains: English Breakfast, Earl Grey, Green Tea, Jasmine Tea, and Peach and Passionfruit
The tea keeper contains a selection of our finest teabags, which can be refilled once finished.
Other Options*
*Currently not available to buy online. For more information, contact us.
Be the first to submit a review for this product!
Write your own review You are reviewing:

Tea Keeper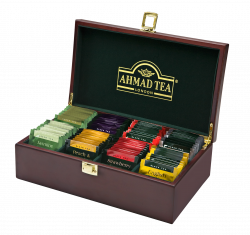 Our Tea Keeper is a great tea gift for any occasion. It's the ultimate in refinement and timeless elegance, the wooden tea keeper makes a wonderful presentation case for our teas.

Our tea keeper caddy contains: English Breakfast, Earl Grey, Green Tea, Jasmine Tea, and Peach and Passionfruit