AhmadTea
Fruitytea
A spectrum of popular fruit flavours in green and black teas. A beautiful gift that will be enjoyed and remembered.
Raspberry Indulgence: black tea with raspberry fruit pieces
Peach & Passion fruit: black tea with peach and passion fruit, fruit pieces
Blackcurrant: black tea with blackcurrant fruit pieces
Lemon & Lime Twist: black tea with lemon and lime fruit pieces
Strawberry & Kiwi green tea: green tea with strawberry & kiwi fruit pieces
Blueberry Brilliance: green tea with blueberry fruit pieces


Origin*: Kenya, Malaw,China's Golden Triangle, between the Jiangxi / Anhui / Zhejiang provincei
*Please note, subject to change due to seasonal variations.
A tea for any occasion and any season.
Other Options*
*Currently not available to buy online. For more information, contact us.
6 x 10 Foil Teabags Selection
Be the first to submit a review for this product!
Write your own review You are reviewing:

Fruitytea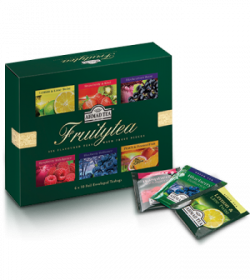 A spectrum of popular fruit flavours in green and black teas. A beautiful gift that will be enjoyed and remembered.

Raspberry Indulgence: black tea with raspberry fruit pieces

Peach & Passion fruit: black tea with peach and passion fruit, fruit pieces

Blackcurrant: black tea with blackcurrant fruit pieces

Lemon & Lime Twist: black tea with lemon and lime fruit pieces

Strawberry & Kiwi green tea: green tea with strawberry & kiwi fruit pieces

Blueberry Brilliance: green tea with blueberry fruit pieces



Origin*: Kenya, Malaw,China's Golden Triangle, between the Jiangxi / Anhui / Zhejiang provincei

*Please note, subject to change due to seasonal variations.

6 x 10 Foil Teabags Selection