Rooibos tea or redbush tea is a herbal beverage made from the leaves of a shrub commonly found in South Africa. It is consumed in a similar way to black tea, and also like black tea is believed by many to have medicinal properties. Rooibos tea has a sweet, delicate, earthy flavour – but it also contains several antioxidants, which may be responsible for some of its associated health benefits.
Caffeine free
Caffeine is a natural stimulant found in both black tea and green tea. Consuming moderate amounts of caffeine is generally safe. However, Rooibos is naturally free of caffeine and therefore suitable for children, infants and breast-feeding mothers who are sensitive to caffeine.
For this reason, Rooibos is also suitable for those who suffer from insomnia or poor sleep and, according to research in Economic Botany, a cup of Rooibos just before going to bed can even help you sleep better.
Therefore, rooibos tea is a good alternative for people who would like to reduce their intake of caffeine or avoid it completely.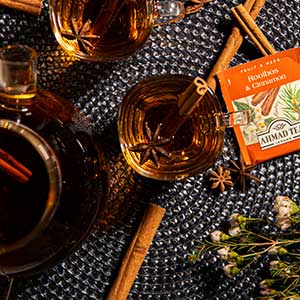 High levels of health-promoting antioxidants
Rooibos tea contains several health promoting antioxidants, with the green variety containing higher levels than the red. Some of the most notable antioxidants in the tea are quercetin and aspalathin.
Antioxidants are important for human health because they stop free radicals from damaging cells in the body. Over the long term, their effects may reduce the risk of illnesses, such as heart disease and cancer.
Studies have found that Rooibos tea consumption increases the levels of antioxidants in the body, but that the effects are small and wear off quickly.
Healthier heart
Antioxidants are important for a healthy heart, which is why Rooibos tea may provide cardiovascular benefits and may also keep cholesterol levels in check.
In a 2011 study, 40 people at risk of cardiovascular disease drank six cups of Rooibos tea daily for six weeks. At the end of this period, the participants had significantly reduced low-density lipoprotein, or 'bad' cholesterol levels and significantly increased high-density lipoprotein, or 'good' cholesterol levels, in comparison with the control group.
Diabetes management
Rooibos tea may help people with diabetes keep their blood sugar levels under control and therefore reduce the risk of complications.
A study published in the journal Molecules  in 2018 found that aspalathin in Rooibos tea can help balance blood sugar, improve insulin resistance and glucose absorption by muscles, and boosts insulin secretion from the pancreas. This results in an ideal defensive shield against developing type two diabetes.
Aspalathin may also help people with diabetes reduce their risk of vascular inflammation and atherosclerosis. These are both factors that play a role in the development of heart problems.
Improves Bone Health
Rooibos tea is rich in fluoride minerals, calcium, and manganese, all of which assist in maintaining good bone structure and strong teeth. By increasing the bioavailability of minerals in the system, it is possible to reduce the chances of developing conditions like arthritis, osteoporosis, and chronic joint pain. A study by researchers from the University of Miami, Florida, suggests that red Rooibos tea has enough fluoride to halt dental decay and cavities.
How to enjoy it
Rooibos tea's a naturally sweet and mild flavour makes it a satisfying beverage to enjoy on its own. However, the traditional South African way of drinking red Rooibos tea is with a splash of milk and a little sugar or honey. There are many flavours that go well with Rooibos, notably vanilla and cinnamon.
So, enjoy your hot cup of Rooibos in your preferred way.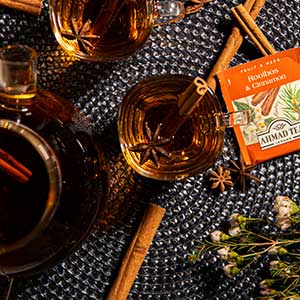 Rooibos tea,aspalathus linearis, a caffeineless, low-tannin beverage
Julia F. Morton  (April 1987) from https://link.springer.com/article/10.1007/BF02858780#page-1
The impact of caffeine on mood, cognitive function, performance and hydration: a review of benefits and risks
H. S. Ruxton (13 February 2008) from https://onlinelibrary.wiley.com/doi/abs/10.1111/j.1467-3010.2007.00665.x
 Anti-Oxidative Effects of Rooibos Tea (Aspalathus linearis) on Immobilization-Induced Oxidative Stress in Rat Brain
In-Sun Hong,# 1 , 2 Hwa-Yong Lee,# 1 , 2 and Hyun-Pyo Kim 3 , *Xianglin Shi,.
(21 January 2014) from https://www.ncbi.nlm.nih.gov/pmc/articles/PMC3897768/
Free Radicals, Antioxidants in Disease and Health
Lien Ai Pham-Huy,1 Hua He,2 and Chuong Pham-Huy3.
(June 2008) from https://www.ncbi.nlm.nih.gov/pmc/articles/PMC3614697/
Effects of rooibos (Aspalathus linearis) on oxidative stress and biochemical parameters in adults at risk for cardiovascular disease.
 Marnewick JL1, Rautenbach F, Venter I, Neethling H, Blackhurst DM, Wolmarans P, Macharia M.
(07 January 2011) from https://www.ncbi.nlm.nih.gov/pubmed/20833235
A Beneficial Role of Rooibos in Diabetes Mellitus: A Systematic Review and Meta-Analysis
Moe Sasaki,1 Nami Nishida,2 and Masako Shimada1,2,*
( April 2018) from https://www.ncbi.nlm.nih.gov/pmc/articles/PMC6017582/
Aspalathin improves hyperglycemia and glucose intolerance in obese diabetic ob/ob mice.
Son MJ1, Minakawa M, Miura Y, Yagasaki K.
( September 2013) from https://www.ncbi.nlm.nih.gov/pubmed/23238530
Rooibos tea flavonoids increase mineral content in human osteoblast-like cells
Leslie A. Nash, https://core.ac.uk/download/pdf/62646739.pdf
Clinical efficacy comparison of anti-wrinkle cosmetics containing herbal flavonoids.
Chuarienthong P1, Lourith N, Leelapornpisid P.
 (27 April 2010) https://www.ncbi.nlm.nih.gov/pubmed/20412217